Yuhu! I won 2 ticket from cinemaonline, my first time having the tickets send to my house. (I hardly ever won something) Normally they will just announce it on the site. They called me on last Monday and asked my full address. I have no idea what I have won til today when I came back home from college and check my mailbox. With 30cent stamp, they send it from Bukit Raja (I don't know where it is) on Monday and today I got it ald.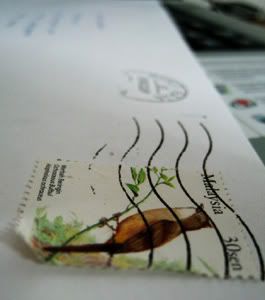 So, I've won this "Avellaneda's Moon" contest. (I thought it's Tiger Dragon Gate. Haiya..) But, I still have no idea about this movie. Cos sometimes I just simply join the contests without remembering the movies. Upss..


Here is the complimentary pass. It's open pass. GSC Mid valley, 1Utama, Gurney Plaza, why all so far one? Sigh..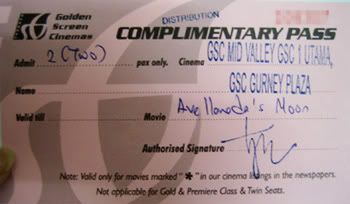 I went to check the website and found out that it is an International movie – Spanish somemore! -___-" Sigh..
Avellaneda's Moon" is definitely not for everyone. With a running time of two and a half hours, this movie is recommended for fans of the international movie scene. Mainstream audiences however, be warned. Yes, it is a good movie, with drama and a dash of humour, but it may not be to your liking. Do note that the movie is entirely in Spanish, so if you're not fluent in the language, do remember to bring your glasses to read the subtitles!
I have to consider about that. Wondering if I can pass this ticket to somebody. Hmm… Else so sayang la.
One more thing, tomorrow talk from a french designer has been cancelled last minute cos @#$% college has rejected to pay any talk unless lecturers propose it earlier in the beginning of this year, new rules. Unless it's a FREE talk! Damn! I guess someone has complaint about last sem's talks. (Pat said yes) Sigh.. Like this means no talk for my final sem.
Patricia has planned wanna ask Mr.honest grouch to give a talk on professionalism, but now it's not gonna happen liao la. Grr!!! And this remind me that someone still owe me $ from last sem workshop. He better watch out! Sometimes too kind to people is like this, Dikasi hati minta jantung! Not only him got financial prob, me too hor!