My plan to stay at home and watch 'Fated to love you' this afternoon.. failed~! I went out to Sun Plaza again with my friends. Can't believe I went there 2 days in a row. Whew… What to do. Sogo department store is having the so called 50% SALE! Of course we couldn't miss it, although I went there just for window shopping.
Lions Club was holding this poster contest at Sun Plaza atrium, with the theme: Peace. Some of the kiddies' drawing was WOW-ing.
I didn't come back home with an empty hand. I bought this, one set of DIY cake at IDR.13.900 /USD1.40. The felt cloths, pattern, needle and thread are included inside. I just couldn't resist the cutie cake's image at the box there.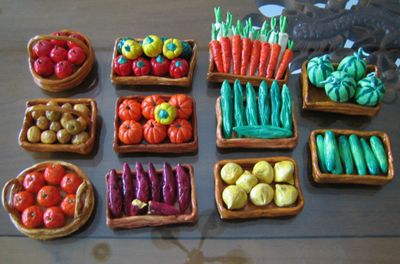 It's been a while since I last created any handmade stuff. Perhaps the above picture is the last handmade stuff that I created using paper clay.
That was… 3 years ago? Whew.. Really, it's been a while. That's why I gotta find some time for that hobby (making handmade stuff) again. Or, I'll be a hobby-less person.
Aside from that, I borrowed lots of DVDs from my friend. My life has been pretty plain since Astro went off air. Really. I don't know what to watch when I turn on the TV.
There is Money No Enought II (Singapore movie) DVD too. I've watched it before with the boyfriend when I went to KL. But I think I'll watch it again and have a good laugh & cry at the same time. It's so touching, I can't help not to drop any tears.
Time to have some rest.